By: Chad Wilson – GridironStuds Blog
Twitter: @gridironstuds
We all know that the Florida Gators 2020 football season had a Jekyll and Hyde feel to it.  On one side there was an offense that was record break and high achieving.  On the other side,  there was a defense that had the looks of a stock portfolio that was losing money during a bull market.  Much of the attention on the underperformance fell on the secondary which will now have to replace three members in 2021.
Of focus in this post is the cornerback spot across from all conference member Kaiir Elam.  As departed cornerback Marco Wilson took much heat during the season for the lackluster secondary performance,  the noise from Gator twitter and some media members was increased playing time for Jaydon Hill.  This came despite Hill playing significant crunch time minutes while rotating in the line up for both Wilson and Elam.  As the season developed and Wilson became the lightning rod,  calls were made for Hill to outright replace Wilson as a starter.  Such is the Twitter mob and the bloggers that are fueled by them.
As Wilson has departed and the open role seeming ready to be filled by Hill,  the offseason has clouded that notion.  For all their cries for Hill to supplant Wilson in the line up,  his move into that role with Wilson now moved on the NFL has seemed to have had sand kicked on it.  I,  for one,  am surprised by this.  How do we go from "put Hill in!" to being excited about every cornerback that entered the transfer portal this offseason?  How did we go from "he deserves more playing time" to "Jason Marshall is going to be an impact player along side Kaiir Elam in 2021"?  Hello,  Jaydon Hill is still on the roster.  Is he injured? I missed that story if he was.
Fans, media and some times coaches like to run through talent like coordinators run through dry erase markers.  They resemble unsatisfied gold diggers at the mall with their billionaire boyfriend's platinum American Express card.  In other words,  they love new "stuff" and that's not the word I wanted to use.  I don't know what the thought process is for the coaching staff.  I am not privy to those conversations nor do I want to be.  However,  so far as the media and fanbase goes,  it seems they are on their train again.
I don't know if Jason Marshall is ready to play or start.  Perhaps he is.  I don't know if new transfer Jadarrius Perkins from Missouri is that guy for the spot on the other side of the field.   However,  I do know this,  Gator fans,  Gator media,  the offseason is getting long and we still have a lot of time left.  Jaydon Hill was the apple of  people's eye in 2020.  Don't let his insides turn brown now.  He shouldn't have to feel cast aside and forgotten for no reason.  Whatever you saw in him a year ago is still there and most likely improved.  He took all those reps for something.  Let's give that guy a chance to see what it all was for.  If the coaches decide it's not good enough then write your stories.
At this point it seems that it there are too many blogs, too many opinions and far too much speculation.  Go hit your lakes, oceans and mountain trips.  Take a break from all of the speculation and let these players go through the process free of your fantasy football dreams laid out on digital currency.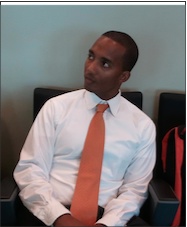 Chad Wilson is a college football recruiting expert and creator of the GridironStudsApp which allows high school football players to gain exposure to college football coaches and fans. Wilson is a former college football player for the University of Miami (92-94) and Long Beach St. ('90-'91) and played briefly for the Seattle Seahawks ('95). He is also a former youth and high school football coach for over 15 years most recently for 5-A State of Florida Champs American Heritage. He runs All Eyes DB Camp a defensive back training company located in South Florida IG: @alleyesdbcamp. Wilson's oldest son Quincy plays in the NFL for the New York Giants and his younger son plays cornerback for the Arizona Cardinals.