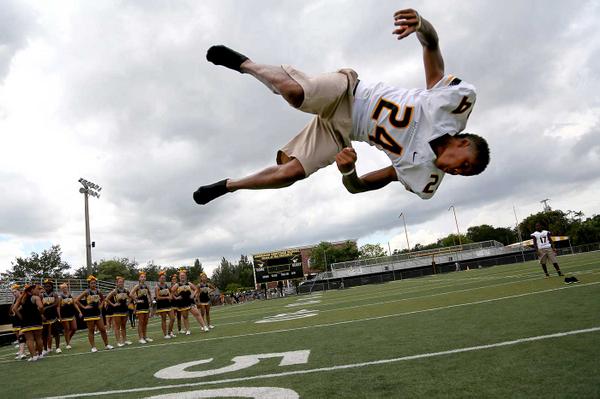 By: Chad Wilson – Editor – GridironStuds Blog
Twitter: @GridironStuds
One hand catches have become all the craze since Odell Beckham's famous Sunday night mid-air snatch during the 2014 season.  Across America,  pros and amateurs alike have attempted to put their own spin on Beckham's amazing feat, many to no avail.
Enter Marco Wilson.  The sophomore defensive back at American Heritage High School in Plantation, Florida pulled of a one hand catch that has caught on both nationally and internationally.  Friday afternoon,  Wilson was out with a couple of his teammates on the field and launched into a backflip while simultaneously snatching a football thrown by a classmate out of midair.  His video was placed on GridironStuds.com and seen by the site's visitors.
By the time Wilson woke up on Friday morning,  his video had gone viral and was plastered across the front pages of ESPN.com, World Star Hip Hop and Bleacher Report.  Since it hit the air waves,  Wilson's feat has been featured on CBS Evening News and KTLA out in Los Angeles with contact being made by NFL Network, CNN and a host of other media outlets.  Several international Twitter accounts have also posted the video to be seen by their audiences.
The high schooler is no stranger to acrobatics.  He has been performing a number of front flips, back flips and other athletic stunts since his early elementary years.  A fan of parkour,  Wilson even has a video on YouTube displaying an array of parkour moves throughout his local town Miramar, Florida.  You can see that video by clicking here.
Wilson is also a standout defensive back for the defending 5A state champs at American Heritage School in Plantation, Florida.  He is rated 4 stars by recruiting outlets like Rivals.com, 247sports, Scout and ESPN.  He already holds offers from 12 division I schools.  His brother, Quincy Wilson, is a sophomore cornerback for the Florida Gators.
Marco Wilson's Amazing Acrobatic One Hand Catch on GridironStuds.com
Related articles across the web
Chad Wilson is a college football recruiting expert and creator of the GridironStudsApp which allows high school football players to gain exposure to college football coaches and fans. Wilson is a former college football player for the University of Miami (92-94) and Long Beach St. ('90-'91) and played briefly for the Seattle Seahawks ('95). He is also a former youth and high school football coach for over 15 years. Wilson's older son Quincy plays in the NFL for the Indianapolis Colts and his younger son plays cornerback for the University of Florida. Email: cwilson@gridironstuds.com.