I am always proud when our Gridironstuds.com members accomplish something, This is why I am pleased to announce that three Gridironstuds.com members have been named to ESPN Rise magazines top 2011 California prospects to watch.
Nelson Fishback (pictured right) was laying low just a few months ago but now he's starting to turn heads and wake people up.  Fishback does not come from a wide open passing attack at Durham High School but he has impressed nonetheless.  See Fishback at QB a camp and he quickly becomes the model that the coaches are telling all the other players to imitate.  Fishback should have a strong 2010 season.  View his highlight video,  click here.
Inglewood's Patrick Onwusor is like that guy walking through the door strapped with grenades to his body…… dangerous.  Onwusor will take your best defensive back and make him wonder if he should be playing football.  He can beat the coverage and even when he doesn't he'll make the play anyway.   How's that for trouble?  Just another in a long line of talent to flow out of that Los Angeles area high school.  View Patrick Onwusor's highlight video produced by Under the Radar Productions.
DeAnthony Thomas from Crenshaw High in Los Angeles is a blur.  He might have just run in front of your computer screen and you didn't even know it.  Going from 0 to 60 in a flash,  Thomas cuts up defenses like a flank steak and leaves cussing opposing coaches in his wake.  He's a ball of excitement and he can take the life out of you from both sides of the ball.  Don't believe me,  see it with your own two eyes.  View De'Anthony Thomas' highlight video.   Thanks to Under the Radar Productions for providing this highlight video.
You can view the complete ESPN Rise California 2011 watch list by clicking here.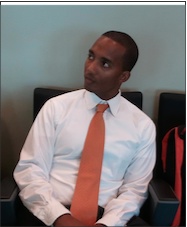 Chad Wilson is a college football recruiting expert and creator of the GridironStudsApp which allows high school football players to gain exposure to college football coaches and fans. Wilson is a former college football player for the University of Miami (92-94) and Long Beach St. ('90-'91) and played briefly for the Seattle Seahawks ('95). He is also a former youth and high school football coach for over 15 years most recently for 5-A State of Florida Champs American Heritage. He runs All Eyes DB Camp a defensive back training company located in South Florida IG: @alleyesdbcamp. Wilson's oldest son Quincy plays in the NFL for the New York Giants and his younger son plays cornerback for the Arizona Cardinals.