The Florida Gators recently picked up a commitment from St. Frances HS (Maryland) 2021 defensive back Clinton Burton Jr.  St. Frances gained attention down in the Sunshine State a couple of weeks ago when they handed perennial city of Miami power Central a 49-13 whipping in a nationally televised game.  St. Frances is the #1 ranked team in the country according to MaxPreps.
When you are a nationally ranked program like St. Frances,  it only stands to reason that many of the athletes on your team will get major attention and Burton has reaped the benefits of that.  Now firmly in his junior season,  Burton has collected 15 offers from some of the nations top programs like Alabama, Clemson, Michigan, Ohio St., Texas A&M and his choice,  Florida.  Here's how I see this prospect.
The first thing that flashes on the screen for Burton is his quickness.  On film,  those feet are moving fast.  With mostly all that we are seeing out of Burton on film being him in off coverage,  he is very adept in getting out of his breaks.  There is little wasted movement once he recognizes the route and has to get from point A to point B.  If you want to get a true measure of a cornerback's overall competency,  watch him playing in off coverage.  Burton's tape exclusively provides that.  Most defensive back coaches will tell you that they can turn any DB with quick feet into a solid press man corner if they needed to.  While I don't 100% agree with that,  I can tell you having quick feet is certainly better than not having them.
What you also notice out of Burton are some pretty solid instincts and recognition.  He does a good job of keying his reads and reacting.  You get the sense that he trusts what he sees out there and won't hesitate to react to it.  His film displays quite a few clips of him getting solid breaks on short to intermediate routes and either getting a pick or a pass break up.
Burton does not display what I would call elite ball skills however they are quite solid.  He does a fairly good job of tracking the deep ball and making a play on it at it's highest point.  His video does also show a couple of missed opportunities.  The good thing here is that we are talking about a prospect that has two more seasons on the high school gridiron.
Finally,  Burton does not show any fear in making contact.  While he opts for tossing the shoulder into ball carriers more than he should,  he is explosive enough when doing to so take them off of their feet.  More than half the battle in tackling is desire so if there needs to be any improvements in tackling with regards to wrapping up,  Burton already possesses a key ingredient which is lack of fear in this department.  While I would have liked to have seen him more in some press man situations as he would likely find himself in as a member of Florida's defense,  you can be comforted by his ability to move laterally, plant his feet in the ground and change direction.  His ability to throw his body around also gives you the thought that he may have the toughness mindset that it takes to excel in press coverage.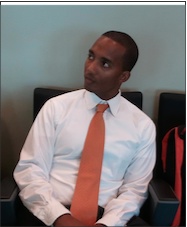 Chad Wilson is a college football recruiting expert and creator of the GridironStudsApp which allows high school football players to gain exposure to college football coaches and fans. Wilson is a former college football player for the University of Miami (92-94) and Long Beach St. ('90-'91) and played briefly for the Seattle Seahawks ('95). He is also a former youth and high school football coach for over 15 years most recently for 5-A State of Florida Champs American Heritage. He runs All Eyes DB Camp a defensive back training company located in South Florida IG: @alleyesdbcamp. Wilson's oldest son Quincy plays in the NFL for the New York Giants and his younger son plays cornerback for the Arizona Cardinals.