2020 cornerback prospect Isaiah Dunson from Tucker HS in Georgia committed to the Seminoles on August 23.  He is currently the 315th ranked prospect nationally,  26th ranked cornerback and 30th ranked player in the state of Georgia according to 247sports.  Tucker is a well known program in the state of Georgia that has a history of producing quality prospects.
Dunson has length at 6-2 and that shows up on film.  The first few clips on his junior highlight film feature him at wide receiver.  I have spoken on this in the past as it seems playing on the offensive side of the ball,  particularly at wide receiver,  can garner you a great deal of attention as a defensive back when it comes to getting ranked in high school.  One of the major reasons for that is because you will show up more on film at wide receiver.  It becomes easier to display your athletic skill when you have the ball in your hands.
Dunson does display solid ball skills from the wide receiver position and an ability to use his size to gain an advantage.  These are things that you can project for him at the defensive back spot at the next level.  There isn't a ton from him after the catch on his wide receiver clips but his ability with the ball in his hands shows up in the clips featuring him returning kicks.
His defensive back skills are raw as there is work to be done on his back pedal, body control and hip flips.  With that said,  there's much to work with there athletically.  In terms of projection,  Dunson's ceiling his high because of his size and athleticism.  Currently he is a more polished wide receiver than defensive back. I can see why Florida State would be excited about him as a defensive back prospect given his attributes.  IN what press clips I was able to see from some camp visits,  Dunson is solid in using his size and length when in press man situations.  In other words,  he plays big.  He also does a good job in keep contacting with wide receivers and tracking the ball on deep throws.  One other thing that stands out is his ability to get back into it when beat on intermediate routes to stick a hand in the basket to get a pass break up.
It will be interesting to see his development throughout his senior campaign as he will be relied upon even more on defense to lead Tucker throughout the season.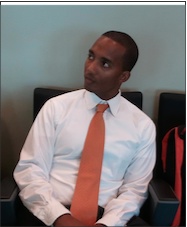 Chad Wilson is a college football recruiting expert and creator of the GridironStudsApp which allows high school football players to gain exposure to college football coaches and fans. Wilson is a former college football player for the University of Miami (92-94) and Long Beach St. ('90-'91) and played briefly for the Seattle Seahawks ('95). He is also a former youth and high school football coach for over 15 years most recently for 5-A State of Florida Champs American Heritage. He runs All Eyes DB Camp a defensive back training company located in South Florida IG: @alleyesdbcamp. Wilson's oldest son Quincy plays in the NFL for the New York Giants and his younger son plays cornerback for the Arizona Cardinals.