The Florida Gators most recent commit comes from South Florida in the form of an offensive lineman.  Issiah Walker Jr. hails out of Norland High School in Miami.  He is the 158th ranked prospect in the country,  the 18th ranked lineman and 26th best prospect in the state of Florida.  He currently holds in the neighborhood of 17 offers with five of those teams currently being ranked in the AP Top 25.
The Gators secured Walker's commitment on October 5th and it's easy to see why he is highly pursued by college programs.  One of the first things that jump out about Walker on film is his movement.  Walker has feet and many coaches will tell you that for offensive linemen,  especially tackles,  feet are a premium.  Walker shows the athleticism for a big man that you like to see.  He's quick off the snap to reach his intended target on the line of scrimmage on zone run plays and nimble enough to kick out and mirror a smaller and quicker defensive and trying to get to the quarterback on pass plays.
You will love his technique against the wide rush by defensive ends.  His kick slide is effortless and is done so without the expense of proper upper body positioning.  Walker also does a good job of getting out on the 2nd level when he needs to and get a key block on defenders who have a chance at making a stop on run plays.  This is also the case on plays that require him to cover a lot of ground like screen passes.  Walker shows an ability to be comfortable in space,  get to his man and seal off the defender from the ball carrier.
Though he is listed at 309 lbs.,  Walker looks slimmer than that on film.  His tape also features quite a few blocks on defenders that are smaller than him.  So while it features his athleticism,  it leaves you wondering on his ability to move bigger defenders for an extended period of time during game play.  This is typical of high school linemen in most places as high school defenses don't always have the ability to line up big defensive lineman that are athletic enough to get the job done.  This is especially the case in an area like South Florida where speed trumps size on defenses.
Developing Walker's size and power will perhaps be the first order of business when he gets on campus but he does posses that attribute that is extremely difficult to develop in linemen and that is athleticism.  With a careful dedication to the weight room and his craft,  Walker can be a tremendous acquisition for the Florida Gators.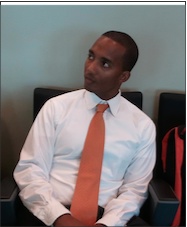 Chad Wilson is a college football recruiting expert and creator of the GridironStudsApp which allows high school football players to gain exposure to college football coaches and fans. Wilson is a former college football player for the University of Miami (92-94) and Long Beach St. ('90-'91) and played briefly for the Seattle Seahawks ('95). He is also a former youth and high school football coach for over 15 years most recently for 5-A State of Florida Champs American Heritage. He runs All Eyes DB Camp a defensive back training company located in South Florida IG: @alleyesdbcamp. Wilson's oldest son Quincy plays in the NFL for the New York Giants and his younger son plays cornerback for the Arizona Cardinals.