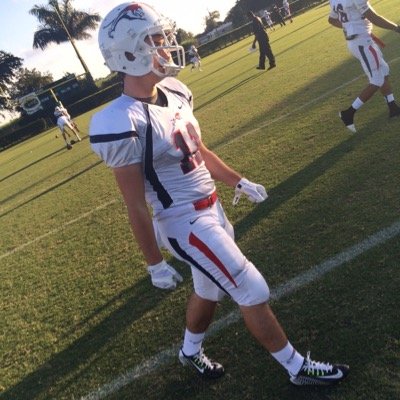 By Chad Wilson – Editor – Gridiron Studs Blog
Twitter: @GridironStuds
Ask a high school football player that's not on the offensive line to block and most will attack it with same fire they attack an English term paper that's due in six weeks.  For the guys who fancy themselves as running backs, tight ends or wide receivers,  their concern falls heavily into the other more "fun" duties of their position.  Don't include Chaminade Madonna's Tyler Goetz on such a list.  Goetz is a two player for the Lions and he excels at all aspects of all positions he takes part in.  However, one look at his film and you realize few players pack up an opponents things and moves him out of space like he does.
Goetz plays outside linebacker, defensive end and H back for the Lions.  From a recruiting stand point,  he seems picture perfect at the college level as a fullback.  From the word go on his highlight video,  you can see that Goetz has mastered the art of blocking a defender.  Goetz' dad Chris was an All American guard at the University of Pittsburgh and played a couple of years in the NFL before an injury forced retirement.  It seems that Tyler's a serious "chunk' off the ole block.  Clip after clip displays Goetz's ability to remove man from space against his own will.  His use of body positioning, driving his feet and hand placement are skills top level division I players and sadly some NFL players are still trying to master.  Goetz also displays great feet for a 6'0" 210 lb. athlete.  You can't deny his hands as well when watching him snag passes with ease from his H back spot.
Defensively,  Goetz disrupts the flow of commerce for offenses from his defensive end spot.  His combination of strength and quickness acts as swiss army knife on offensive lineman who are never sure what's coming.  It would be interesting to see how much damage he could cause as a true stand up outside linebacker but that does not fit the needs for Chaminade right now.  Either way,  Goetz is a college prospect that will undoubtedly do a great service to any program that eventually lands him.  There's so much good on his film that at some point it should be a training reel for blockers at all positions.  Good fullbacks these days are hard to find but look no further than Goetz's tape for that.  His potential at a linebacker spot is also apparent from his athleticism.  There is much to consider when watching him on tape. However opponents considering occupying a spot on the field that he does not wish to have you in,  are in for a ride to a new location.

Chad Wilson is a college football recruiting expert and creator of the GridironStudsApp which allows high school football players to gain exposure to college football coaches and fans. Wilson is a former college football player for the University of Miami (92-94) and Long Beach St. ('90-'91) and played briefly for the Seattle Seahawks ('95). He is also a former youth and high school football coach for over 15 years. Wilson's older son Quincy plays in the NFL for the Indianapolis Colts and his younger son plays cornerback for the University of Florida. Email: cwilson@gridironstuds.com.
Facebook Comments