Lost amid the hoopla and elation of Miami Booker T. Washington's huge win over nationally ranked Miami Northwestern Saturday night was the commitment of two of Booker T's top senior players.
Upon the completion of the contest, defensive end Lynden Trail and wide receiver Quinton Dunbar ran to the middle of the field and put on Florida Gator caps signifying that Florida is their team.
Trail was quoted in the Miami Herald saying:
"I hope Coach [Urban] Meyer is still in town and he's watching this," said Trail, who had two sacks and eight tackles.
"This doesn't mean I won't take visits and that the recruiting process is over for us, but right now Florida is our team."
Trail is #85 ranked player in the country according to Rivals.com is also being recruited by Florida St., Georgia, Miami, USC and Tennessee.
Dunbar committed to the University of Miami earlier this spring but then decommitted. Now he has somewhat of a pledge to the Gators. Dunbar is also being recruited by Florida St., West Virginia, Michigan, Purdue and several others.
Both players were instrumental in pulling one of the big upsets thus far in the high school football season. Miami Northwestern is headed towards an ESPN matchup next weekend with Miami Central. Perhaps they were looking ahead or perhaps Booker T. Washington is just that good. Trail recovered two fumbles in the game, returning one for a touchdown and another 75 yards to set up a score. Booker T. defeated Northwestern 35-28 to move to 5-0 on the season.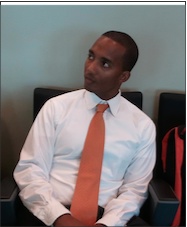 Chad Wilson is a college football recruiting expert and creator of the GridironStudsApp which allows high school football players to gain exposure to college football coaches and fans. Wilson is a former college football player for the University of Miami (92-94) and Long Beach St. ('90-'91) and played briefly for the Seattle Seahawks ('95). He is also a former youth and high school football coach for over 15 years most recently for 5-A State of Florida Champs American Heritage. He runs All Eyes DB Camp a defensive back training company located in South Florida IG: @alleyesdbcamp. Wilson's oldest son Quincy plays in the NFL for the New York Giants and his younger son plays cornerback for the Arizona Cardinals.