By: Chad Wilson – Editor – GridironStuds Blog
Twitter: @GridironStuds
Signing Day just came and passed.  If you did not sign with a school,  then you need not read beyond the headline to feel the message that I am putting forth.  However,  this article is not for those guys,  it's for the highly recruited prospect that feels he is sitting on top of the World and has so many gifts under the Christmas tree that he can ignore the pair of socks that grandma gave him.
I was recently scrolling through my Twitter timeline and came across a high school coach's tweet in which he said that prospects should stop tweeting out their Division II football offers.  I am not sure what the spirit of that tweet was but the overwhelming perception of it was a negative one.  It also helped breed a stereotype that many young prospects have easily fed into.
Before a prospect receives that first offer,  he is definitely in a mental state where he is wondering if he will ever be a college football prospect.  Rarely is there a time when a prospect receives a college scholarship offer the very first time he does anything worthy in a game, camp or practice.  Often times,  the prospect has been putting in work,  making plays and has gone unnoticed for a period of time.  During that time,  there can be seeds of doubt rumbling around your head.  Often times,  the prospect forgets about those days once offer number 10, 15 or 20 rolls in.  You went from I hope, I wonder, I wish a school,  any school,  will give me an offer to "why the hell is the school offering me,  don't they know who I am?"  Perhaps society has shaped this view.  Maybe it was how you were raised.  Or perhaps the overwhelming desire for status when you are a teen would keep you in that mindset.  Whatever the case may be,  I'm telling you to get rid of that thought process immediately.
First of all,  if you are really young in the game like a freshman, sophomore or even a junior,  you don't know what could happen by the time signing day rolls around. Things are ever changing in recruiting and even a perceived 5-star can roll down hill and lose a bunch of offers. It happens almost every year and don't think it can't happen to you.  The essence of excelling in football is being prepared for any and everything.  Any school offering you a scholarship is worthy of your consideration and at the very least,  your respect.  Thank that coach the way you did the first coach that offered.  Thank that coach like you thanked the one who was from a program that went to the college football playoffs last season.
Here's the other part you may not have thought about.  In December,  North Dakota St.,  a FCS school,  lost their head coach to Kansas St.,  a school in the Power 5's Big 12.  Head coach Chris Klieman then brought four of his assistants along with him to Kansas St..  Imagine if you were holding 30 FBS offers and North Dakota St. came long to offer you a scholarship which you promptly blew off in a disrespectful manner.  Imagine that you committed to and signed with Kansas St. before they announced the hiring of the new head coach.  Imagine that the coach you blew off from North Dakota St. is now your new position coach at Kansas St.  Coaches are supposed to be professional but first they are human beings and you may have shown him a little bit of who you are.  Time to his the transfer portal or nah?
You don't have to have a 99 in awareness to realize that coaches are very mobile in this new era of college football.  It's not always a whole staff that is moving.  It's individual coaches that can leave one spot and head to another.  Division II coaches can become FBS coaches in a heart beat.  I hope you listened to the adults in your life that told you that you treat everyone with respect.  If no adult has ever told you this then allow me to be your parent for 10 seconds…..  treat everyone with respect because you never know.
Every offer should be treated like the first one you received when you were thirsty for it.  First of all because you never know if that school is the one that will be there in the end.  Second because you never know if you and the coach that made that offer will cross paths.  Third because 1,000's upon 1,000's of prospects from your class have not been blessed to receive any offers from any school anywhere.  Finally,  in a mindset that has been totally lost in our current society,  it's the right thing to do.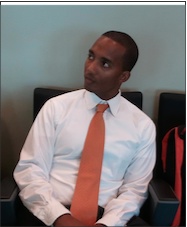 Chad Wilson is a college football recruiting expert and creator of the GridironStudsApp which allows high school football players to gain exposure to college football coaches and fans. Wilson is a former college football player for the University of Miami (92-94) and Long Beach St. ('90-'91) and played briefly for the Seattle Seahawks ('95). He is also a former youth and high school football coach for over 15 years most recently for 5-A State of Florida Champs American Heritage. He runs All Eyes DB Camp a defensive back training company located in South Florida IG: @alleyesdbcamp. Wilson's oldest son Quincy plays in the NFL for the New York Giants and his younger son plays cornerback for the Arizona Cardinals.