By: Chad Wilson 
Twitter: @GridironStuds
The scouting business is all about projections whether that be at the high school to college football level or the college to pro level.  A big part of the projection is size and speed but what should not be lost is the skill level that is needed to actually compete and win on the football field for your team.  When it comes to playing wide receiver there are definitely some skills that are going to need to be present if you are going to succeed at the next level.  With that in mind,  here are five things you would need to include on your highlight video to catch a college coach's attention.
(1) Route Running Ability
What is route running if it's not the ability to set up the defensive back,  defeat his leverage and get separation right before the ball is thrown?  It is the primary job 1A for a wide receiver in any offense that has a desire to throw the football.  Your highlight video should have a healthy display of clips where you demonstrate this ability.  All of the clips don't even have to be of you getting the throw from the quarterback.  It is ok to show clips where you defeated the defensive back on the route but you were not targeted.  If you are in a run heavy offense like a wing-t or veer then you may be forced to include clips from 7on7 events.
(2) Ball skills
Job 1b for the wide receiver is to catch the football.  What good is getting open if you can't complete the catch? You definitely want to show clips of you making some difficult catches.  In particular,  you will want to show plays where you were covered but made the catch anyway.  The coverage at the next level is going to be tighter.  If you have to be wide open to make a reception then that's bad news for you.  Show college recruiters that you can win a 50/50 ball when you need to .  Another thing that you will want to display is your ability to catch in traffic.  If you have plays where you made a catch over the middle,  definitely include those as they show your toughness and reliability in tough situations.
(3) Speed
There is no more desired trait in football than speed and no place is that more wanted than at wide receiver.  Not every receiver has speed but if you have it,  definitely show it and do so early in your highlight video.  Nothing excites a recruiter more than a guy that can blow by a defensive back either during the route or after the catch.  Did you have a long touchdown pass where you ran past the defensive back?  Did you turn a short route into a long touchdown by out running the entire defense?  Put that on display on your highlight video and strongly consider making it the first play on your highlight video.
(4) Run after the Catch
Speaking of running away from defensive backs,  having the ability to run after the catch is a highly desired trait.  Doing this does not always require elite speed.  Sometimes a combination of quickness and vision can give you what you need to bake the defense to a golden crust on your way to pay dirt.  If you have clips where you caught a ball and made defenders miss for a long gain,  that's valuable content on your highlight video.  You can also display this ability as a return man.  So if you are your team's punt returner and or kick off returner include some of your good returns early on in your highlight video.  The trick is to show all of your capabilities within the first minute or two of your video.
(5) Blocking Ability
Finally,  football is indeed a team game.  It's great when you score but it's also great when you help a teammate find the end zone.  A receiver that blocks with pride and full effort shows that he's a team player who has a keen interest in winning.  If you are not a great blocker then I suggest you work on it.  If you are and have some solid clips of you man handling a defender to help a ball carrier,  don't leave that out of your highlight video.  This is another way to show your toughness as well as your character.  You don't need to go overboard with blocking clips but definitely show that it's a part of your game.
A healthy mixture of these elements in your highlight video is sure to catch the attention of the right people when you start doing a little self promotion.  If you are an underclassman and are missing any of these elements from your current highlight video then it's time to start working on it.  Better to be a complete wide receiver as it will attract the attention of more schools.  As with anything in life,  the more options you have the better.  Happy filmmaking.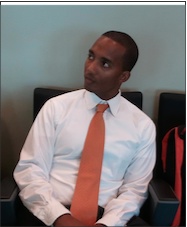 Chad Wilson is a college football recruiting expert and creator of the GridironStudsApp which allows high school football players to gain exposure to college football coaches and fans. Wilson is a former college football player for the University of Miami (92-94) and Long Beach St. ('90-'91) and played briefly for the Seattle Seahawks ('95). He is also a former youth and high school football coach for over 15 years most recently for 5-A State of Florida Champs American Heritage. He runs All Eyes DB Camp a defensive back training company located in South Florida IG: @alleyesdbcamp. Wilson's oldest son Quincy plays in the NFL for the New York Giants and his younger son plays cornerback for the Arizona Cardinals.