By: Chad Wilson – Editor – GridironStuds Blog
Twitter: @GridironStuds
The action is getting hot and heavy in the 2018 college football season as we start moving into the rivalry games and the stakes start getting high.  With that,  we get surprises,  upsets and muscle flexing.  I'll address those things this week in this column.  Before I do that,  I hope you've been paying attention to the 3-for-3 article I've been writing every week.  I have not had a losing week yet.  Clap it up for your boy.  Let's take a look at what week 6 provided us.
Nole Surrender
It's a rivalry game so you know what that means.  Well many people forgot going into the annual Florida St. vs. Miami fist fight and if they bet on the game they were sad.  The Canes were double digits for the first time in many years and on the surface,  it only seemed right.  The Seminoles started off the year as an abject disaster.  From the lethal simplicity to the beatdown in Syracuse to the backpack,  there was little reason to have respect for Florida St. other than the fact that this is the state of Florida and football pride is a big deal.
I tried to caution the Twitter-verse about the dangers of the Canes overlooking the Seminoles leading up to kickoff.  While I was surprised that Florida St. held a lead at the half and into the 3rd quarter,  I was not shocked.  Rivalry games have a way of producing these kind of outcomes.  I did figure that sooner or later,  Miami would make their run but when the score got to 27-7 midway through the third,  my caution flags went up.  I began to think about the ramifications of such a loss for the Miami program,  the players and my Twitter account.  Fortunately,  Miami mustered up all the strength of the Canes of old.  With that,  they stormed back into the contest like Jason Voorhees comes back from the dead in every Friday the 13th movie you've ever watched.  21 unanswered left Florida St. questioning their ability to win a big game.
The game speed was as fast as I have seen on film between two teams this season.  It really reminded me of the 1989 meeting between Florida St. and Miami that left such an impression on my teen mind at the time.  Had this Florida St. team showed up for all of their games this season,  their record would be undoubtedly different. Both teams' defensive lines dominated and forced the offenses into a bevy of mistakes.  For Miami,  the door is open for them to run the table up to the ACC Championship game and for Florida St.,  the fight will be to finish the season above .500 with some tough ball games coming up.
Thanks for the Memories Tigers
When the Gators and the Tigers hook up there's always a chance you will see something great.  I had the pleasure of attending this game in person on Saturday and I don't think I have ever seen the Swamp that packed both inside and out.  Walking around outside of the stadium before the game,  I remember think to myself "there's no way that everyone outside of this stadium is going to fit inside of this stadium."  Perhaps it did happen because the announced attendance was just over 90,000 and it sounded like it.
LSU came out in abnormal LSU fashion as they mixed up their plays in the most unpredictable way and moved down the field like water vs. the Gators in their first possession.  If you were a Florida fan,  you had to take a deep breath and think to yourself that this was not normal.  LSU does not behave in this way.  Florida failed to answer and once again,  LSU moved down the field with relative ease.  Ultimately,  the Gators would force a turnover with pressure,  something that ended up becoming the theme of the game.
LSU would eventually settle into their mundane offensive selves and slowly,  Florida would impose their will.  With Tim Tebow and several members of the 2008 Gators on hand, Florida would smack the cajun dust off of LSU's SEC and college football playoff hopes.  The sturdy ladder LSU put in place towards their goals after the Auburn win got hit with a greasy rung when Louisiana native Brad Stewart scampered into the endzone with a pick six off of Joe Burrow.  Per usual,  rugged defense was on display from both sides in this game and it has been the hallmark of success for both programs in this 2018 season.  It seemed to be a bigger win for a Florida program that has seemingly had it's head held under water ever since Urban Meyer's heart palpitations.  Now the trick is to handle success adequately enough to actual obtain a true measure of it.
RedRum Rivalry
While I wasn't shocked by the 2nd half lead for Florida St. in their game vs. Miami,  I was shocked by virtually everything that happened in this Red River rivalry between Texas and Oklahoma.  This game was the only one I lost in my 3-for-3 this week and none of what happened made sense.  First of all,  the defensive game plan for the Sooners baffled me.  I guess I wasn't the only one because the loss resulted in a pink slip for DC Mike Stoops.  The Sooners have been at their best defensively this season when they have lined up in three man fronts and sent pressure.  Versus Texas,  the defensive plan turned into a four man front with occasional three man fronts mixed with little to no pressure.  As a result,  Longhorn QB Sam Ehlinger was sacked only once and enjoyed his best game yet this season with 314 yards passing and 2 TDs.
Despite amassing 24 points against his defense and a truck load of yards going into the half,  Stoops did not adjust tactics in half #2 and Sooner fans were treated to another 24 points piled up by Texas on their beloved.  Down 45-24 late,  the Sooners did manage to come barking back and tie the game near the end of regulation. Once again,  the Sooners' defense came up lame and allowed Texas to hook'em with a late field goal.  It was definitely a much needed win for a Texas program looking to reclaim some past glory.  In front of a sold out crowd and more importantly,  a solid group of recruits,  Texas won for the first time since 2015 to give themselves a tremendous pendulum swing in their favor.  As mentioned,  the the loss left a casualty in the Sooners' staff as Lincoln Riley gave Stoops his walking papers. Ex East Carolina head coach Ruffin McNeil will assume Stoops' duties.
Bowed Back Bulldogs
It had been a rough couple of weeks for the Mississippi St. Bulldogs.  After splashing into the 2018 season with all the giddiness of a moonshine party,  the Bulldogs found a fly in their drink in the form of Kentucky and Florida.  Mississippi St. is no punk however,  so it only stood to reason that they were going to straighten up their back at some point.  Saturday Night vs. visiting Auburn appeared to be the ample time to do so.  Lose three SEC games in a row and you can kind of kiss your season good bye and that was what the Bulldogs were facing.  This was also what the Auburn Tigers were walking into.  So it should come as no surprise to anyone that these dogs were biting.
Mississippi St. was the wrong opponent for Auburn to face.  Heading out on the road to face a desperate opponent who's prone to being physical has it's nightmarish qualities.  The Bulldogs muffled Auburn's screams and terrorized them for 60 minutes.  Auburn entered this game having trouble moving the ball on the ground.  Mississippi St. is not the place you go to fix your running game.  Needless to say,  the mechanic was not in as Auburn's 90 yards rushing contributed to their offense only managing three field goals.  The Bulldogs countered that with their revved up rushing engine cranking out 349 yards on the ground enroute to the convincing 23-9 victory.
The 2nd SEC loss undoubtedly puts Auburn out of the SEC West title race and leaves them wondering what they are playing for the rest of the way.  The expectation coming in was that Auburn could challenge Alabama for the crown this year.  At this point that seemed absurd but it also could leave Auburn with a tattered mindset that Gus Malzahn must carefully manage.
Altered States
I alerted you a couple of weeks ago to a disturbing trend I was observing with Stanford this season.  Despite having a Heisman Trophy candidate at running back,  the Cardinal could not really block for him.  What Stanford appeared to be better at was pass protection and that's not really Stanford's game.  To their credit,  Stanford has thrown the ball better than in year's past and it has bailed them out,  most notably in their game vs. Oregon.  Were it not for their late game heroics in Eugene,  Stanford would have been swallowing their third straight loss of the season.  Instead,  they will have to settle for having been blown out in back to back weeks and giving up an average of 36 points per game over the last three. When Stanford can't run well,  they apparently can't stop people and so Utah took full advantage.
If Stanford does not find a way back to their bread and butter they will be left eating soup for the rest of the season.  Though they are 3-3,  Arizona St. is a dangerous opponent up next for Stanford with Washington coming next.  David Shaw has never really faced any pressure at the head of Stanford's program but four or more losses in a season could start things rolling in the wrong direction come 2019.  The Pac-12 is in a weakened state with USC down and a number of new hires.  This is a situation that Stanford should be taking advantage of but instead,  we have this.
This and That
Thursday Night,  Georgia Tech ran up the rushing yards like a drunk runs up a bar tab vs. Louisville.  542 yards on the ground resulted in 542,000 searches for "Bobby Petrino's buyout" on Google.  To save you some time,  it's $14 million.  That represents a sum that history would indicate that Louisville would not be willing to part with.  So for all of you with the red ass,  settle down and support your red birds.
Quietly and under the cover of Big Ten type gray clouds,  Michigan St.'s program is receding like a 45 year old hairline.  The Spartans are 3-2 and the list of wins are not impressive.  A loss to Northwestern on Saturday might get things stirred up in East Lansing.  Should a trigger get squeezed,  who might be a candidate for the job?  Credit to Ohio St. for locking up OC Ryan Day but Greg Schiano is still is unprotected and East Lansing is far enough a way from Knoxville.
Speaking of Ohio St.,  apparently Urban Meyer had a health issue at the game on Saturday……. I'm just saying.
Alabama coach Nick Saban chastised the students and fanbase last week for their poor attendance to the big Louisiana Lafayette matchup in Bryant Denny Stadium.  This week they poured a 40 ounce on Arkansas by the half (41-14) and cruised to a 65-31 victory.  With Missouri coming to Tuscaloosa next week,  it might be standing room only in the dorms during game time once again.  That Coke can is in trouble at the press conference.
South Florida running back and former Florida Gator Jordan Cronkite put up some insane rushing numbers on Saturday vs. U.Mass.  Cronkite exploded on the scene with 302 yards on just 22 carries vs. the Minutemen.  The total equaled exactly the amount of yards he had in two seasons with the Gators before transferring after the 2016 season.  He may be one to keep an eye on the rest of the way.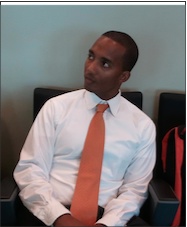 Chad Wilson is a college football recruiting expert and creator of the GridironStudsApp which allows high school football players to gain exposure to college football coaches and fans. Wilson is a former college football player for the University of Miami (92-94) and Long Beach St. ('90-'91) and played briefly for the Seattle Seahawks ('95). He is also a former youth and high school football coach for over 15 years most recently for 5-A State of Florida Champs American Heritage. He runs All Eyes DB Camp a defensive back training company located in South Florida IG: @alleyesdbcamp. Wilson's oldest son Quincy plays in the NFL for the New York Giants and his younger son plays cornerback for the Arizona Cardinals.