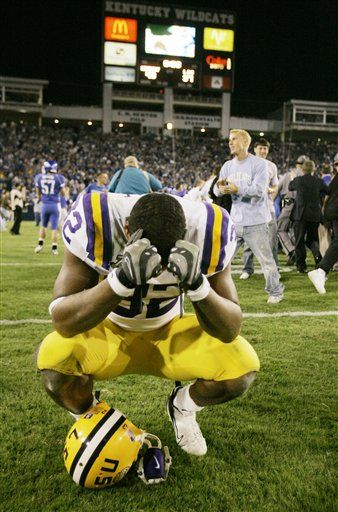 By: Chad Wilson – Editor – GridironStuds Blog
Twitter: @GridironStuds
I get this question all the time.  "Coach what can I do to get my name out there?" It is a good question and it is an important question.  Exposure is what a recruit needs to land offers.  Assuming you have the talent to play college football,  there are some definite things you can do to open the door for you to get attention from college football programs.  In this article,  I will discuss what those things are.
I preach this all the time,  you have to have self awareness when it comes to the college football recruiting game.  First of all,  are you cut out for college football?  That's always the question.  Do you really love playing football?  The demands on your time will be extensive if you become a college football player.  College coaches also will not be as nice when you are not up to snuff on the football field.  They are getting paid a lot of money to coach and will not lose their jobs because you can't get your act together.  There is also a tremendous amount of pressure on a coach too so he will simply transfer some of that pressure on to you.
The next question is what level of college football player are you?  Everybody wants to be D1 but are you what D1 is looking for?  In other words,  do you fit the profile? Do you have the characteristics of division 1 football players?  Ivy league schools want a certain GPA and a certain test score for their students.  Likewise,  Division 1 college football programs have certain requirements.  While college football programs are not as stringent on the requirements as an IVY League school,  they do have those requirements and will look far and wide to find them.  This could include looking past you multiple times in an effort to find it.  Ignoring all other types of schools (FCS, Division II and III) waiting for the division I school to take interest is not a wise strategy.
If you feel strongly that you meet all of the requirements to be a college football player and you do not yet have an offer,  here three things you can do to get the ball rolling.
Hit the Weight Room
Football is a physical game.  To stand up to the constant contact,  a player is going to need to have some body armor.  Certainly, college football is more physical than high school football.  A lot of what college football coaches have to do when scouting is predict your ability to play football at their level.  Just because you were good in high school does not mean you will be good in college. Let's face it,  we all know guys who were great in little league and then disappeared in high school. Likewise,  the same thing happens from high school to college. If a coach continues to bring in players that don't pan out in college then that coach will soon be looking for another job.
Nothing says that you may be ready for college football like putting muscle on your frame. A well put together frame excites the college coach for a number of reasons.  First,  it shows that you may be able to stand up to the contact and be the physical player that every successful team needs.  Second,  it's easier to sell a player that looks well put together to the head coach and coordinator.  Finally,  it shows that you may be dedicated to improving and getting better.  I am not saying that skinny players who avoid the weight room never get scholarships but sometimes their lack of dedication to lifting catches up to them.
Check Out the Camps
When camps are in town, make an effort to go.  It's in your best interest during the spring time to get yourself around as much competition as possible.  Competition raises your level of play and camps really teach you how to compete while also getting a chance to view the other talent in your area up close. Don't worry about winning MVP.  Go out there,  give it your all and try to learn as much as possible.  After the spring is over and college programs have visited you,  set up visits or trips to the schools that showed interest in you.  Virtually every school has a camp.  So while the college football programs may not have offered you,  if they show an interest in you,  it's in your best interest to get out to their summer camps.  When you go to the colleges' camps in the summer,  it gives them a chance to get a look at you perform.  Many offers have been given out at college camps in the summertime.  If you can attend five camps then visit 3-4 that showed interest and then attend 1-2 that did not show interest but you have a strong desire to attend.
Get Video
Yes it happens. Guys ask me about getting exposure when they don't have any film.  Either they didn't play varsity or they transferred and the old coach won't let them access their Hudl account. There are other reasons too but not having film is like not having a resume and wanting a high paying job.  I'm not saying it's impossible but it's gonna be extremely difficult.  Even if you have a highlight video on Hudl,  let's make sure it is done the right way.  Far too often players slap their highlights together and just put the plays in the order in which they happened throughout the season.  Players also make the mistake of putting too many routine plays in their highlights.  Those are two big mistakes not to make when putting together your highlight film. When it comes to the highlights,  shorter is better and routine is ruled out.  College coaches are looking for the best of the best all around the country.  Your highlight video should suggest to them that you are just that.  For more info on making highlight videos check out this article Football Highlight Videos Are Not Routine.
What if you don't have good highlights?  There could be a number of reasons for this.  You could be a good WR at a school that doesn't pass.  Or you might be a good defensive back but didn't get much action during the season.  When this happens,  it's time to get creative.  If you are on a 7on7 team,  get someone to film you in action out there.  If you're not on a 7on7 team,  film yourself doing drills and training.  It's not the ideal way to get on a colleges' radar but in the absence of anything else,  it's something and in some cases it can open the door for you.
Once you have put together your video,  it's time to get it out there.  Make use of quality recruiting services to move your name in recruiting circles.  The GridironStuds App was created for high school athletes to broadcast their accomplishments.  It is used by college coaches to find prospects.  The app is totally free for high school football players and you can create a profile.  It also allows you to add images and link to your highlight video whether it's on Hudl or YouTube.  It's an outstanding tool to use if you are trying to get exposure to college football coaches.  To check out the GridironStuds App,  click here.
Getting a college football scholarship is getting more and more competitive.  Thousands of players are trying to get them every year and there is more and more jockeying for attention by recruits to college programs.  However,  the aspects I just laid out in this article are tried and true.  Work them hard and watch how things start to change.
Chad Wilson is a college football recruiting expert and creator of the GridironStudsApp which allows high school football players to gain exposure to college football coaches and fans. Wilson is a former college football player for the University of Miami (92-94) and Long Beach St. ('90-'91) and played briefly for the Seattle Seahawks ('95). He is also a former youth and high school football coach for over 15 years. Wilson's older son Quincy plays in the NFL for the Indianapolis Colts and his younger son plays cornerback for the University of Florida. Email: cwilson@gridironstuds.com.