By: Chad Wilson
Twitter: @gridironstuds.com
College football is fun isn't it?  The week to week battle to see who will outlast everyone to the end and play for the national championship is just soap operaish.  Well,  that's kind of how it used to be,  not so much lately.  Articles like this one can get you labeled as a hater but I don't care.  College football is one of those things I am passionate about but less so in recent years.  Call it the rapid changes that have eroded at the fabric of fan loyalty to the centralization of power to one conference and really one team.  Whatever it is,  it sure would be nice to see other programs crawl back into consciousness.
As we all know,  consciousness means either play for or win a national championship.  Over the last 12 years,  one team has won half the titles and we all know who that is.  Combine that with the fact that only four or five teams have really even had the chance to bite the apple and you can see where boredom may settle in for the college football fanbase at large.  This has left us to live in a fantasy world where we create hypotheticals via social media and like I will do in this blog article.
Having watched college football for the greater part of 40 years now,  I have seen a lot of teams come and go in the mainstream.  Some of them have left an unforgettable impression while others were pretty much ho hum.  With that in mind,  here is my list (in reverse order of course) of teams that have not won a championship in the last 10 years but should for the goodness of college football.
#10. Georgia
Not since true freshman running back Herschel Walker dazzled us with his powerful running style,  break away speed and leaps over the pile into the end zone have we been blessed to see the Dawgs raise the trophy.  Last year celebrated 40 years since the boys in Athens could allow their voices to reach max volume.  While they have made a little noise in recent years under Kirby Smart,  the hollering has been more in being able to furnish their house with 5-star recruits and less about hanging trophies on their mantle.  The Dawgs have been the butt of jokes because of their ringless nature.  Wouldn't it be swell to watch them win one and meltdown in a sea of anti decorum on Twitter?  This season seems to provide one of their best opportunities of late.
#9. Michigan
The youngsters of the college football viewing audience world will wonder aloud if Michigan has ever won a college football national title.  Who could blame them,  most of them weren't alive to see the rose in Charles Woodson's mouth in 1997.  Hell,  many of them will faintly remember Woodson's NFL career despite it occurring in three different decades.  Ohio St. has partied alone in the Big 10 for quite some time now.  It sure would be nice for the boys in blue to give the Buckeyes some media competition.  Besides,  only God in Heaven knows what Jim Harbaugh would do if he ends the drought for his alma mater.  He may buy out all of the Dickies in Walmarts nationwide.
#8. Penn St. 
One man and one man alone has led Penn St. to the ultimate in college football.  The late Joe Paterno,  high water pants and plain uniform excellence marked the 80's and 90's.  A tarnished legacy because of a wayward assistant coach has been the legend ever since.  Whether you are a fan of Penn St. or not,  you have to admit that having them get back into the mix and win one would be great for college football.  In this era of swag and style points,  a win by the guys dressed in Dick's Sporting Goods football uniforms would give many something to hate on.  Imagine the chaos if something so plain became so rich!
#7. Oregon
Speaking of style points.  Who bedazzled themselves more than Oregon did in the early 2010's?  From the 425 uniform combinations with chrome helmets to the ridiculous signs held up in between plays,  the Ducks were different.  For all that pizazz,  Oregon couldn't quite put the ball in the net but they sure excited us trying.  They are less colorful these days (see Mario Cristobal going looney on a player that earned a taunting penalty last week) but they still carry a card.  The Pac-12 and Western United States football in general could use a pick me up and the Ducks getting bathing in a championship trophy would be soothing.
#6. Notre Dame
The Irish are the catholics you love to hate but you hate them less when they aren't champions.  Think of the emotions that would rumble inside of you as watched the guys with the golden helmets and their coach with the rose colored cheeks sneering at you with big trophy in hand.  Wouldn't it just piss you off?  Yeah,  that's what we need.  Instead of us being mad every week over dismissed players for targeting we can stew for a whole offseason at Notre Dame being at the top of college football again.  In fact,  we could have them be our first ever four loss national champ seeing as though unless they're .500,  someone important wants to put them in the College Football Playoff annually.  It would be awesome just to have people looking at gothic church structures across the country in disgust simply because the catholic football team is the best.
#5. Texas
Everything's bigger in Texas including the growing amount of time it's been since Vince Young danced into a pile of launched confetti in the back corner of the Rose Bowl end zone.  Since the night Vince became a legend and dispatched of the Trojan dynasty,  Texas has ridden the role of coaster.  They had a slight chance to block the Saban dynasty one night but Colt McCoy's bum shoulder advanced what might have been the inevitable.  Texas has been branded with mediocrity for over a decade now serving up over cooked steaks of rampant disappointment.  Once again there's a new face in town as the head coach but college football just has a better feel when Texas is threatening to win it all with their wealth of high school football talent.
#4. Oklahoma
Believe it or not,  Oklahoma has not won a title in 20 years.  Hard to believe isn't it?  They have hoodwinked us with out of this world quarterbacking excellence and multiple college football playoff appearances but yeah,  nothing.  It sure would be nice if all of that horn honking would actually lead to an open lane for celebration eh Sooner fans?  I guess with Lincoln Riley in Norman you always have a shot.  However,  the move to SEC can be regarded as questionable for someone looking to grab the ultimate prize.  Or maybe not.  Putting a dominant year together in the NFL conference could streamline the other Crimson of the conference to NCAA paydirt.  We could trot Barry Switzer, Bob Stoops and the Bozz out in a cut off t-shirt to raise the trophy.
#3. Florida
Forget how you feel about the Gators at the moment (yes I'm talking to you Canes and Seminoles).  You have to admit that it was downright fun when Steve Spurrier was funnin and gunnin in the Swamp.  Beating Tennessee and then using snazzy quotes to let the humiliation of the loss linger for weeks was gold.  You can't tell me that you didn't like seeing the Gator brand advanced with the awesome talent level that was possessed during the Urban Meyer years.  Sure,  it gave your blood another reason to boil.  We need that high heat again.  The state of Florida is producing talent at a high rate but it's benefitting all of the colleges that reside outside of the sunshine.  Imagine the turmoil within the state if Florida could reach the mountain top while the other two major programs are holding Twitter coaching searches.
#2. USC
Since Vince made  the Trojan wince,  it just hasn't been the same in Los Angeles for the team that rideth upon a horse.  When Pete Carroll took his show to the Great Northwest,  he apparently took all the movie stars with him.  There's nothing on the USC sidelines now but missed opportunity and despair.  It sure would be nice to see Marcus, Ronnie, Snoop and OJ (snicker) back on the SC sidelines again.  We all know there's only one way that's going to happen.  When the Trojans win a championship it's a show.  It's a show unlike anything we would see from Iowa, Kansas St. or Northwestern.  I think you catch my drift.  It's just more fun when the Trojans have the gun.
#1. The U
Nobody did it better than the Hurricanes.  For every celebrity sighting on the Colosseum sidelines in Los Angeles,  there was a whole team walking off the plane looking like they raided an Army Navy Surplus.  For every dominant Alabama performance in the last decade plus there is an on field celebration by a Hurricane that would make a grandma clutch her King James version.  The establishment hated the Canes so much that they literally legislated them out of college football consciousness.  That level of hate and emotion could only serve to bring even more interest to the game of college football.  No doubt Miami were the trendsetters in the game.  If allowed to drink from the golden cup once more the Canes could restore the joyful feeling that only a first down hip thrust can illicit.  While it seems more like a pipe dream at the moment,  it would be an absolute nightmare for the powers that be if it did happen.  I'm all for seeing the hardened face rulemakers scrambling once again to stop the spread of 305 excellence.  Aren't U?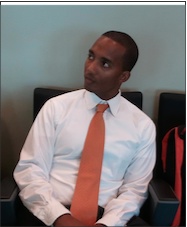 Chad Wilson is a college football recruiting expert and creator of the GridironStudsApp which allows high school football players to gain exposure to college football coaches and fans. Wilson is a former college football player for the University of Miami (92-94) and Long Beach St. ('90-'91) and played briefly for the Seattle Seahawks ('95). He is also a former youth and high school football coach for over 15 years most recently for 5-A State of Florida Champs American Heritage. He runs All Eyes DB Camp a defensive back training company located in South Florida IG: @alleyesdbcamp. Wilson's oldest son Quincy plays in the NFL for the New York Giants and his younger son plays cornerback for the Arizona Cardinals.